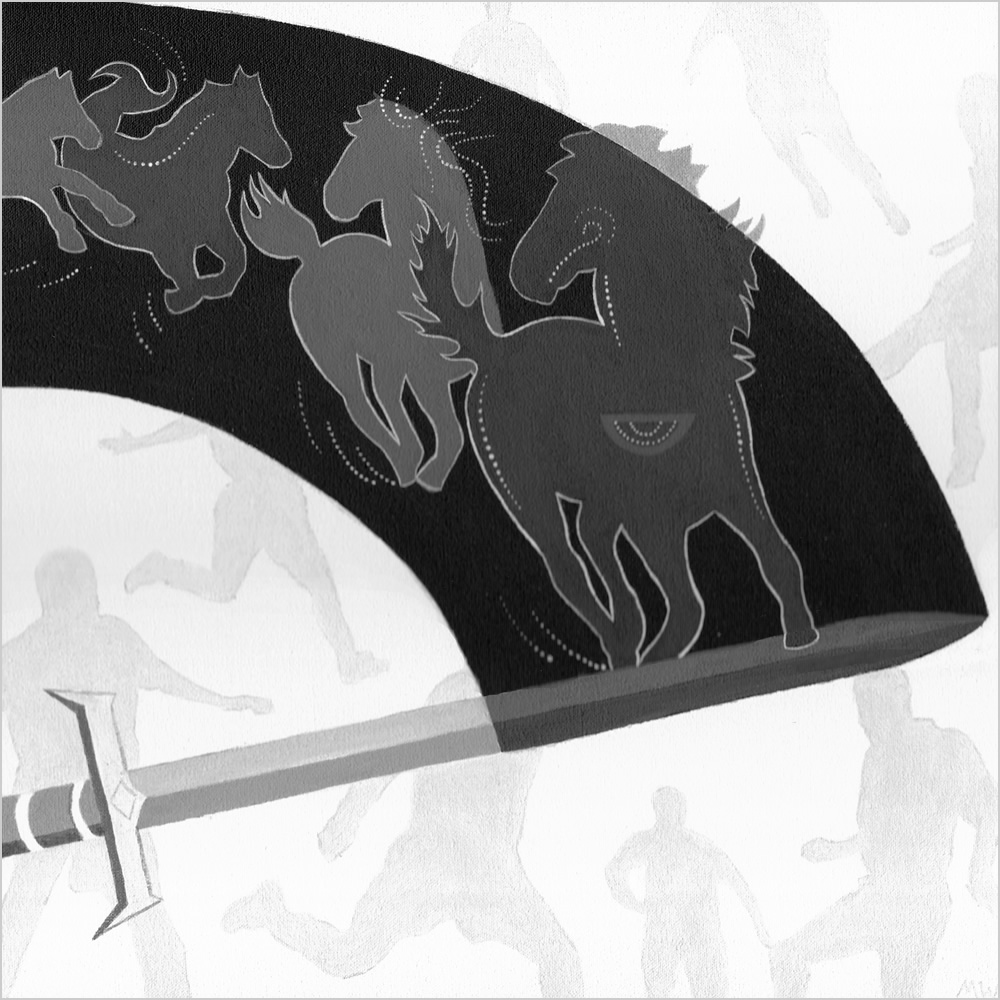 "A year later we lost another FA Cup final to the league champions only this time it was to Man United. Again the bottom half circle on the leading horse symbolises this. A swoosh of Sir Bobbie's sword and Newcastle are back with the leading pack, finishing 3rd in 2002-03 shown by our seahorse again."
19999 FA Cup Runners Up (Lost 2-0 to Man Utd at Wembley)
Back with the Leading Pack (1999 – 2004)
Veteran ex-England manager and self confessed Geordie Sir Bobby Robson, was brought in to replace Gullit. His first job, unthinkable a few years previously, was to ensure Newcastle's survival in the Premiership.This was achieved, at the expense of stylish football, but with Lee and Shearer back onside. Over the next few seasons Robson built up an exciting young squad, as well as getting to an Inter-Toto Cup final against Troyes FC, which they lost on away goals after a 4-4 draw at home. Players such as Kieron Dyer (a Gullit signing), Craig Bellamy and Laurent Robert ensured the team were capable of once again punching their weight in the league. An unlikely Championship challenge almost emerged in the last few weeks of the 2002/2003 season, and Newcastle achieved qualification for the lucrative Champions League.
The 2002/2003 season was a particularly colourful one for Newcastle on the European stage. In the first group stage, Newcastle lost their first three matches in a row, then, in an astonishing reversal, shocked Italian giants Juventus 1-0 at St James' Park. They then controversially beat Dinamo Kiev 2-1 in Newcastle before winning the crucial last match, away to Feyenoord, 3-2 in injury time, with striker Craig Bellamy scoring the injury time winner. With Dinamo Kiev losing at home to Juventus, Newcastle progressed to the second round.
That same striker Craig Bellamy was later involved in an on-pitch brawl with Internazionale defender Marco Materazzi. Bellamy was sent off, and was punished further by a three-match ban. Compounding the disaster for Newcastle was the suspension of influential captain Alan Shearer for a similar incident, although the punishment was just a two-match ban. Newcastle went on to lose 1-4 at home.
Shearer returned in the fourth game in the 4-team group, scoring all three goals in a 3-1 demolition of Bayer Leverkusen at home. Despite a superb performance against Internazionale in the famous San Siro, only to draw 2-2, Newcastle lost at home 2-0 to Barcelona and dropped out of the Champions League.
The 2003/2004 season saw Newcastle drop out of the Champions League at the first hurdle, they beat Partizan Belgrade 1-0 away from home, but then lost 1-0 at St James' Park and were eliminated via the penalty shootout. This defeat dropped Newcastle into the first round of the UEFA Cup. Newcastle reached the semifinals of the UEFA Cup in the 2003/2004 season, defeating NAC Breda, FC Basel, Valerenga, Mallorca and PSV along the way, before eventually being knocked out by Olyimpique Marseille 2-0 on aggregate.
Newcastle finished 5th in the Premiership at the end of the 2003/2004 season, which ensured qualification for the UEFA Cup once again for the 2004/2005 season
After nearly five years in charge, Sir Bobby Robson was dismissed on August 30 2004, following a very poor start to the 2004-05 season and alleged discontent in the dressing room. A split had grown between Robson and the club owners when they had made a number of high-profile signings, apparently without consulting him – in particular that of Patric Kluivert. He was further undermined by the club's high profile, but futile, offer for Wayne Rooney who instead moved to Manchester United. Robson later stated his dismay at the tendency for overpaid young players to demand all the perks without proving themselves on the pitch. Events during the ensuing season, on and off the pitch have gone a long way to confirm Robson's assessment. Robson was later given a £1 million severance payment.