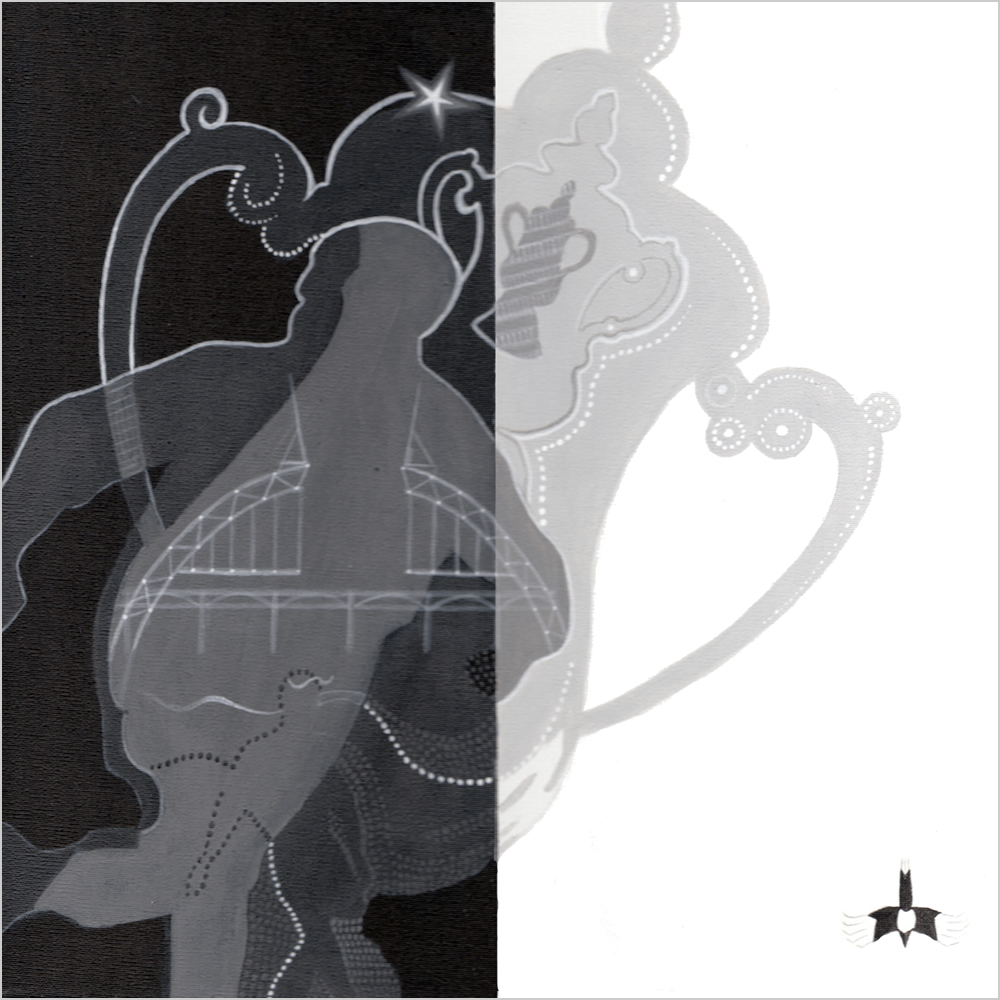 "A hatric of events on Tyneside saw Newcastle win the league in 1927, the Tyne bridge was being built that same year, and Newcastle brown ale was also born that year. Another way of looking at a hatric is that Newcastle United lifted 3 cups in the period before WW2 which are shown in the painting. The star represents Newcastle Brown Ale, the main figure in the painting is Hughie Gallacher. The figure emerging from the waters of the Tyne is Stan Seymour who later becomes the manager."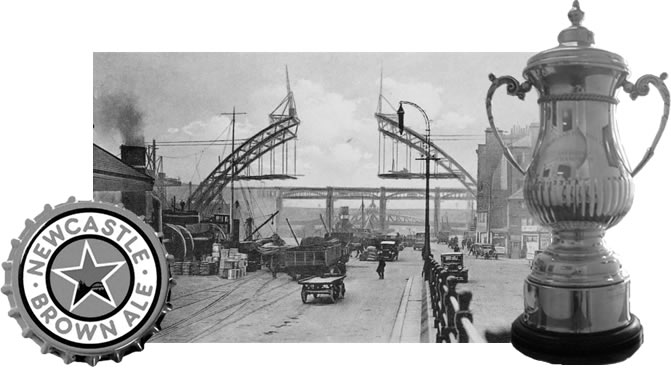 Newcastle United after WW1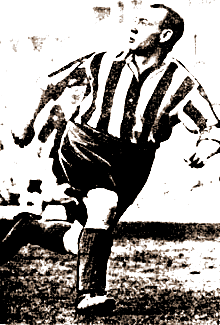 Newcastle United lifted the FA Cup at Wembley in 1924 defeating Aston Villa – only the second ever final to be staged at the famous stadium. And a record signing of Scottish international centre-forward Hughie Gallacher made sure United collected another Championship trophy three years later in 1927.
Famous names continued to pull on the Newcastle striped shirt. Apart from the legendary Gallacher, the Magpies fielded the likes of Neil Harris, Stan Seymour and Frank Hudspeth. Seymour was to become an influential figure for the next 40 years as player, manager and director.
It was back to Wembley in 1932 to compete in the infamous 'Over the Line' FA Cup final with Arsenal. United won the game 2-1 after scoring a goal following a cross from Jimmy Richardson which appeared to be hit from out of play – over the line. There were no action replays then and the referee allowed the goal, a controversial talking point in FA Cup history.
Newcastle boasted master players like Sammy Weaver and Jack allen as well as the first player-manager in the top division in Scottish international Andy Cunningham. But after glory at the Twin Towers of Wembley, Newcastle's form slumped and by 1934 they had been relegated for the first time in their history.
Amazingly in the same season as they fell into the Second Division, United defeated Liverpool 9-2 and Everton 7-3 within the space of a week! A rebuilding process took place in the years leading up to the Second World War and by that time former star winger Stan Seymour had been appointed to the Board of Directors. A determined character, he set the foundations of United's next great period.
1923-24 Winners against Aston Villa,
2-0 with goals from Seymour & Harris Final
1926-27 Division 1 Champions
Pld 42 W25 D6 L11 F96 A58 Pts 56
1931-32 Winners against Arsenal at Wembley
2-1 with 2 goals from Allen
1933-34 Relegated finishing 21st
Pld 42 W10 D14 L18 F68 A77 Pts 34