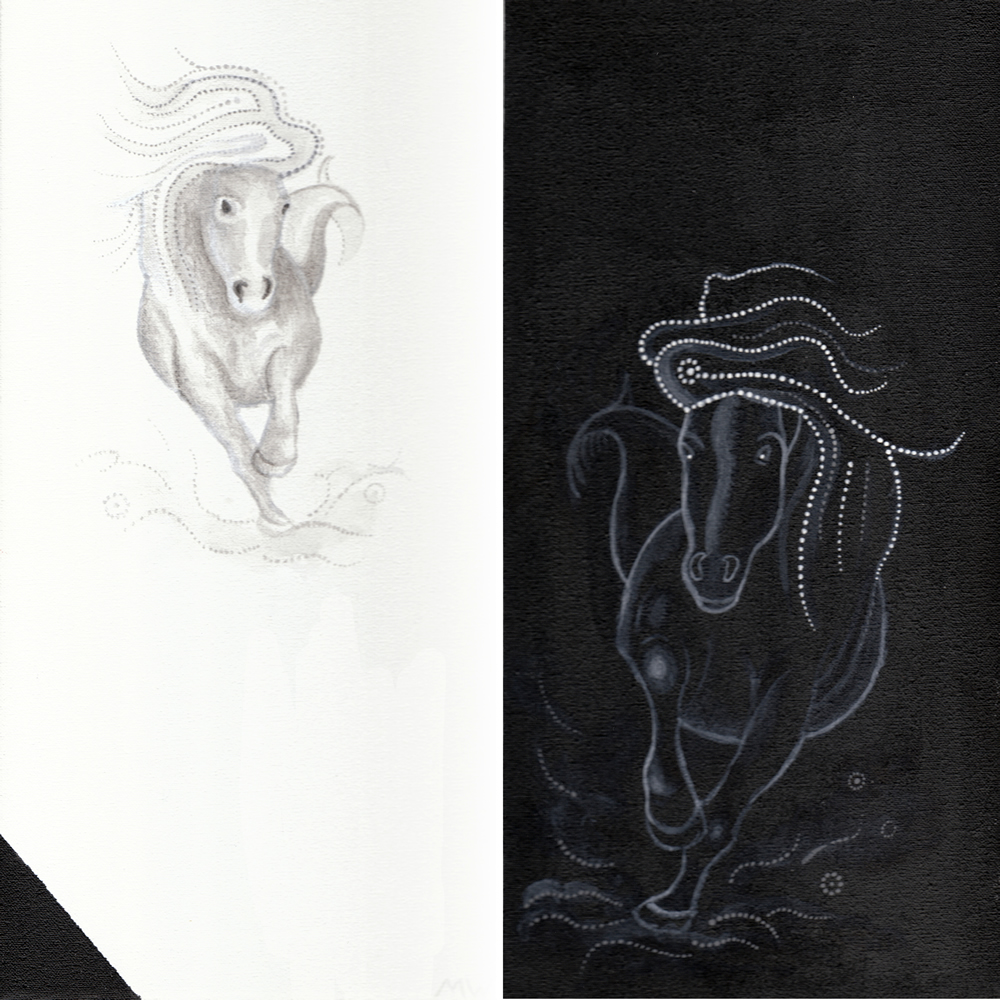 "This painting represents the two main teams that formed to be Tynesides main competitors. In the first painting the two seahorses facing away from each other are now racing. Notice they have flippers instead of back legs to represent the seahorses on the clubs badge."
The Two Horse Race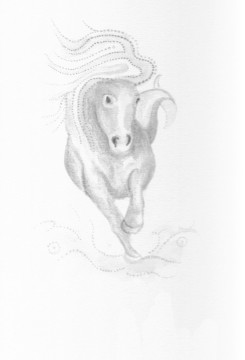 The men who made Newcastle United on their respective sides of the city were a mixed bunch; professionals, businessmen, shopkeepers and tradesmen. Many both administered and played the game as it took root.
East End were represented by the likes of William Findlay and Alex White, while West End had William Nesham and John Black. Tom Watson was also at West End, but he was to switch camps and be an influential figure at East End.
West End's first game was on 7th October 1882 against Rosewood, a 2-0 defeat just before the Byker side were to amalgamate with the newly titled East End. A mile across the city, East End kicked off on the same day against Hamsterley Rangers at Byker and faired better, winning 1-0. The East Enders though, unlike their rivals, had at least a feel for the new game having played several matches under the banner of Stanley.
By 1884 both East End and West End had emerged as Tyneside's strongest sides, overtaking the original pioneers Tyne and Rangers. Both clubs also started to take part in the competition in which Newcastle United was to carve a special niche in the FA Cup.
Formed as far back as 1871, West End was the first of the two rivals to appear in the tournament. In 1886 they played Sunderland and won the match after a controversial contest only to loose to Gainsborough Trinity in the next round. Twelve months later East End made their FA Cup debut. They played South Bank on Teesside, but lost 3-2 after extra-time.
Newcastle West End started to show up as the stronger of the two rivals at first. They made headlines during the summer months of 1888 by attracting Scottish international Bob Kelso to St James Park. He was the biggest personality by far to regularly appear for a Tyneside club, having made a name for himself as a right-half with Renton, then a prominent force north of the border.
East End knew they had to make changes to keep up with the ambitious West Enders. In the same close season they lured Tom Watson from St James Park and underwent drastic surgery in both players and officials, an overhaul that was to eventually revive their fortunes.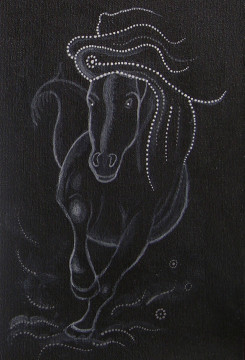 In April 1888 the Football League was set up in Manchester when twelve clubs agreed to try a new venture that would ensure the game of football would spread rapidly. Newcastle clubs were not part of it, although Wearside teams, Sunderland and Sunderland Albion, were soon to apply for membership. Tyneside's clubs had no such thoughts yet and were content to help form a local Northern League which consisted of ten founder clubs, a mix of professionals and amateurs. For season 1889-90 league football of sorts arrived on Tyneside. West End did well, finishing Runners-up to Darlington St Augustine. East End were fourth in the inaugural table.
East End then took a bold and huge leap forward in a bid to oust their West End rivals from prominence. They decided in 1890 to become a Limited Company with an issue of 2,000 shares at 10 shillings each – the very same shares at the centre of the battle for control of Newcastle United nearly a century later.
Not wanting to be left behind West End quickly followed suit. The venture was not to prove an instant recipe for success, but within 18 months it was the East Enders, and not West End, that developed into Tyneside's top club.
The battle for prominence between the two camps continued. East End by now were heading up the table and coming to grips with the blossoming game. West End, however were heading the other way, in rapid decline. The Chillingham Road club possessed
more talented players, displayed better football, could attract larger gates, although still pitifully small, and had a much more enterprising management
One underlying fact remained clear. The city was not big enough for two football clubs. There was only support to ensure the
development of the association game for one set-up.
If football was to progress further, one club had to go and by the end of the 1891-92 season Newcastle West End's position, both on the field and at the bank, had become perilous. Their Northern League results were dreadful and they were out of funds.