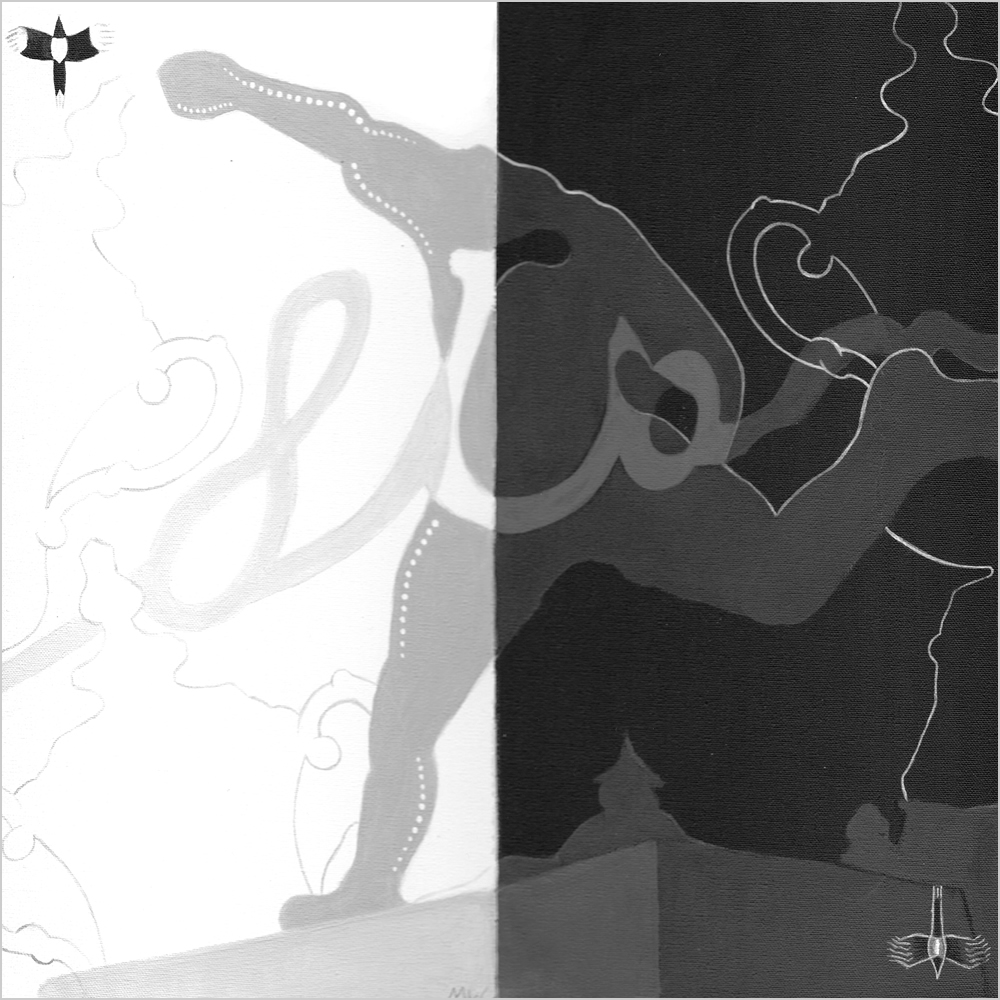 "The figure in this painting is taken from the statue of Jackie Milburn outside of St James Park. with a piece of a signature running through it. The signature belongs to Stan Seymour who was then the manager. Newcastle lifted the FA cup 3 times in the fifties which is represented by 3 outlines of the cup."
1947- 48 Promoted finishing 2nd
Pld 42 W24 D8 L10 F72 A41 Pts56
Newcastle United – after WW2
Former star winger Stan Seymour had been appointed to the Board of Directors just before the outbreak of World War 2. A determined character, he set the foundations of United's next great period.
By the time peace was restored in 1945, Seymour was at the forefront of affairs, manager in all but name. He ensured that the Magpies possessed an entertaining eleven full of stars, a mix of home-grown talent like Jackie Milburn, Bobby Cowell and Ernie Taylor, as well as big signings in the shape of George Robledo, Bobby Mitchel, Joe Harvey, Len Shackleton and Frank Brennan .
Newcastle spent the first couple of years post-war in the Second Division. Crowds were high after the return to football, and in 1946 Newcastle recorded the joint-highest victory in English League Football history, defeating Newport County 13-0. Len Shackleton, playing his debut in that match, scored 6 goals in the match, another record for Newcastle.
1950-51 FA Cup Winners against Blackpool at Wembley
2-0 with 2 goals from Milburn
1954-55 FA Cup Winners against Man City at Wembley
3-1 with goals from Hannah, Milburn, and Mitchell
1951-52 FA Cup Winners against Arsenal at Wembley
1-0 with a goal from Robledo
Newcastle returned to the First Division in double quick time. Promotion was achieved in 1948 in front of vast crowds. An average of almost 57,000 at every home game saw United's fixtures that year, a national record for years to come. That was just the start of another period of success.
>During the Fifties decade United lifted the FA Cup trophy on three occasions within a five year period. In 1951 they defeated Blackpool 2-0, a year later Arsenal were beaten 1-0 and in 1955 United crushed Manchester City 3-1. The Magpies were known in every corner of the country, and so were their players; 'Wor Jackie' Milburn and Bobby 'Dazzler' Mitchell the pick of a side that was renowned the nation over.
Despite having quality players throughout the era, stars like Ivor Allchurch, George Eastham and Len White during the latter years of the decade, United slipped from the First Division in 1961 under the controversial management of ex-Manchester United star, Charlie Mitten. It was a huge blow to the club.
1960-61 Relegated finishing 21st
Pld 42 W11 D10 L21 F86 A109 Pts 32